Over the weekend, radio queen and social activist Adelle Onyango joined three other top female personalities in a
mentorship event dubbed #NajijuaNajiamini held at Machakos Girls High School. Hosted under Champs Foundation, the campaign is a brainchild of radio presenter Mwende Macharia, who hopes to use the campaign to "create awareness among young people aged 15-24 years on self empowerment, self confidence and self appreciation". For this edition Mwende invited Adelle together with radio presenter Mwalimu Rachel, gospel star Bahati and Liz Marami, the first female marine pilot.
"It's powerful when, we, ladies in the media get together to inspire and mentor our little sisters. The illusion of jealousy is just that, an illusion. What we are doing is bigger than us," Adelle explained. Adelle gave a talk to the hall full of teenagers about the importance of being self aware. "I spoke about my journey, roughing it out even after losing my parents, especially my mum. I gave a speech about speaking your success into existence. Moulding your identity but leaving room for you to grow and unlearn things. I emphasized about the company you keep, basically, you are the average of the four people you hang out with," Adelle said.
After her talk, one of the student's – Georgina – was overwhelmed with emotion and narrated how "she always listens to me since I joined Kiss FM. She even knew I joined in 2013!!!!! She always dreams about joining not any radio station but Kiss FM! So the emotions just rolled down her face," an equally emotional Adelle said, "It was so humbling. And a reminder that, what I'm doing and my story, is influencing and inspiring so many people!"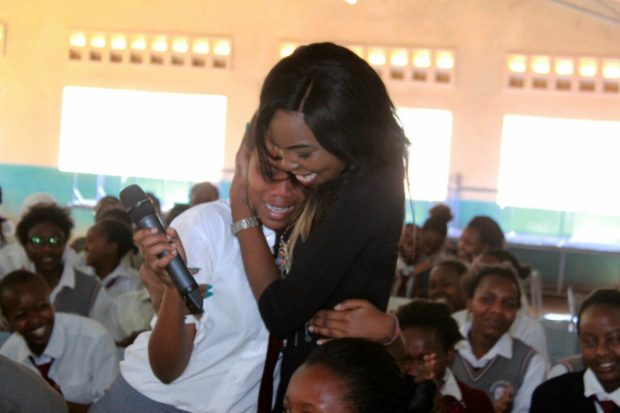 _"…__So the emotions just rolled down her face. It was so humbling. A reminder that, what I'm doing and my story, is influencing and inspiring so many people!__" – Adelle Onyango_ This is part of Adelle's desire to create social change and empower the girl child; she is also the brand ambassador of Intel® She Will Connect. Recently, she joined over 150 women from Narok in a week long digital literacy programme that is aimed at giving women and girls the opportunity to acquire or improve their digital skills while expanding their understanding and use of technology.
A unique platform was used to dispense the training – a custom built trailer with a 40ft container that has been redesigned to become a digital classroom equipped with PCs, internet connectivity, digital screens and trainers that can accommodate 30 women at a time for training. Narok became the first county to benefit from the Intel® She Will Connect Digital Caravan that will embark on a nationwide tour visiting other counties including Machakos, Muranga and Nairobi and will be a major boost to ongoing sector efforts to bride the large technology gender gap in Kenya.
Following the week long training in Narok, it is envisaged that the women and girls will have tools to enable them to attain skills to improve their education, enhance their political participation, have a stronger voice in their communities, and increase their income by connecting to new economic opportunities available online.